EuroEAP Society industry challenge 2021

The EuroEAP Society Industry Challenge 2021 was generously supported by Bürkert Fluid Control Systems. https://www.burkert.com/en
Winner
---
Omnigrasp soft gripper
Team leader: Vito Cacucciolo, EPFL
Omnigrasp is a soft robotic gripper that uses electroadhesion on silicone fingers to deftly and securely grasp an enormous range of objects. Combining EAP fingers with motorized holders, our gripper achieves reliable pick-and-place of objects that range from small and delicate, such as a raspberry, to large and heavy, like a watermelon. With a miniaturized power-supply and a plug-and-play interface, Omnigrasp makes its EAP-based technology approachable for industrial automation at all scales.
More info: https://omnigrasp.com/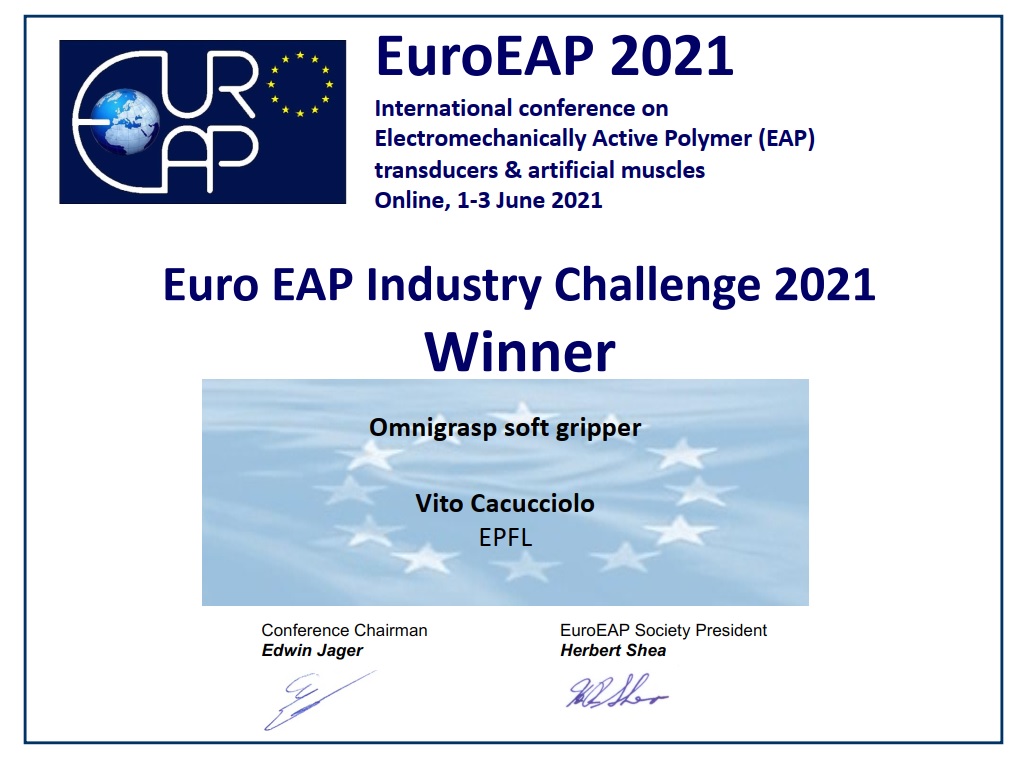 Other participating teams
---
DE Shaker – Unconfined Fluid Mixing Device
Team Leader: Giacomo Sasso, Queen Mary University, United Kingdom

An off-the shelf High Voltage Signal Generator
Team Leader: Markus Henke, PowerOn, Germany

More info: https://www.poweron.one/
TouchDetect
Team Leader: Markus Henke, PowerOn, Germany

More info: https://www.poweron.one/
EAP-pump
Team leader: Metin Giousouf, Festo
Our EAP driven pump can be used in laboratory automation or semiconductor technology.
The great advantage of the pump is its high energy efficiency and the fact that the actuator does not heat up during operation and therefore does not heat up a critical substance to be pumped.
Due to the energy efficiency also mobile applications can be imagined, the pump works noiseless too.
The current planning is in laboratory automation for pumping biological substances in the life sciences.
https://www.festo.com/group/en/cms/index.htm
DE-Unimorph-Membrane-Headphone-Driver
Team Leader: Petko Bakardjiev, TU Dresden, Germany
DextrES: electrostatic clutch for wearable haptics
Team leader: Ronan Hinchet, EPFL
Existing haptic gloves capable of kinaesthetic feedback are bulky and heavy. In response, we introduce DextrES, a soft ultra-thin and light haptic feedback glove for VR that makes virtual objects feel solid. Our approach is based on sub mm-thick electrostatic clutches (ESclutch) to block finger motion and control finger sliding. Our wearable ESclutches weigh only a few grams, yet can block up 20 N per finger, consuming only few mW. The resulting glove developed paves the way toward ultra-thin, light and comfortable kinaesthetic feedback that enhance virtual dexterity.
Clearing the Way for DEAs
Team leader: Steffen Hau, Desaar
Dielectric elastomers are a promising technology for small, light-weight, energy efficient (no Joule heating) and silent actuators. The major road blocks on the way to success of the technology are lack in availability of the DEAs, cost-efficient driving electronics as well as the spread of knowledge for designing efficient systems. We propose a company supporting potential customers with engineering (adoption and integration of DEAs into their application) and manufacturing of DEA systems (DEA + driving electronic + support structures) and thus making the advantages of the technology available to them. Our Mission is to commercialize the DE-technology with customized and beneficial systems form the first draft up to series production.
More info at http://www.desaar.de